Innovation Training : How an Innovation Training Needs Analysis Tool Can Help.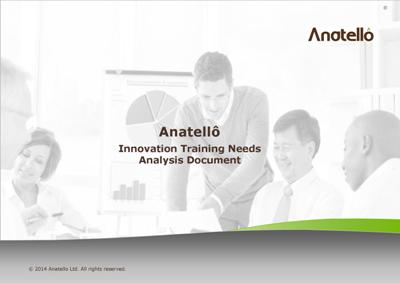 Under pressure to innovate faster and smarter and deliver more innovations of higher quality?
Maybe it's time to develop the innovation capability of your teams to an even higher level.
...But how can you ensure you get the optimum return on your investment in people development?
There are two key ways for teams to build innovation capability:-
Learning through experience on innovation projects
Learning through innovation training courses and programmes
Even better is to continually develop your teams' skills in both ways.
The 'right' kind of innovation training for you and your teams is the training that addresses your real training needs. It's also the innovation training that delivers the greatest level of improvement in your innovation outcomes for the investment your organization makes.
So how can you choose the 'right' innovation training for your teams?
Anatellô's Innovation Training Needs Analysis Tool.
The Training Needs Analysis tool is well established in some organizations and is often used in the context of operations and management development training. The Training Needs Analysis tool enables you to identify areas for performance improvement, and to find out whether training can help 'fill the gap' between desired and actual level of performance.
A well designed Training Needs Analysis tool can also help you to prioritise how to spend your training budgets most effectively.
At Anatellô we're used to working with clients to analyse their innovation training needs and identify the best training to help them improve their teams' innovation capabilities.
Now, we're delighted to offer you an Innovation Training Needs Analysis Tool on the Anatellô website - free for you to download.
So, if you've been wondering whether innovation training may help your teams improve innovation performance you can take the next step to find out.
The tool has been designed so that it can be used in a variety of different ways :-
Informally, to stimulate reflection and discussion at team meetings or post project review meetings when you have completed an innovation project.
To complete a formal assessment of innovation training needs across your organisation.
To get an initial assessment of your innovation training needs before contacting us for a comprehensive diagnostic of the innovation training needs and innovation context in your organisation. We'll offer you a no-commitment discussion and you can also find out how innovation training can help your teams improve the quality and quantity of innovations in your organisation.
We will be delighted to hear how you get on with using the tool. We'll use any feedback we get to further develop the tool.
Your Personalized Innovation Training Needs Analysis.
As specialists in innovation training, we provide training to clients in a wide variety of sectors, so this tool has been designed to be broad-based.
If you would like a more personalized diagnostic of your innovation training needs, perhaps with a view to us customizing training modules or designing bespoke innovation training for your organization, then do get in touch with us for a personalized discussion of your innovation training needs.
© Anatellô Ltd 2014. All rights reserved.