Help is at Hand with our Innovation Training Needs Analysis Tool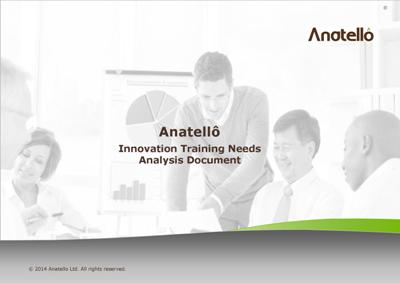 When you're tasked to innovate faster and smarter, and to deliver a greater return on innovation investment, you can feel under pressure.
Then when you try to up your team's innovation game by developing their innovation skills, you can quickly become bogged down in the learning and development options for innovation; course type, course length, how it's delivered, who it's targeted at, how the learning will or will not integrate into your organisation's established processes...
We'll wager that you need to feel that any innovation training for you and your teams will address your real training needs. You also need to feel that any innovation training you're considering will get you the biggest bang for your buck. You want to be sure you're getting the greatest level of improvement in innovation outcomes for the investment your organization is making.
So how can you choose innovation training for your teams that will make the kind of difference you are looking for?
Anatellô's Innovation Training Needs Analysis Tool.
For a no risk option you might want to dip your toe in the water with Anatellô's Training Needs Analysis Tool. It will give you a feel for the areas your team are already excelling at, and where there are gaps in their innovation expertise. It will prompt you to think about which innovation challenges your teams handle smoothly, and where they stall.
You'll start to get a better feel for your priorities in innovation learning and development, and that in turn will set you on your way to spending your training budget more effectively.
You can download Anatello's innovation training needs analysis tool free from our website.
You can use the tool in a variety of different ways :-
Informally : Use the tool when you chat at team meetings or in a 'post project review' session after you've completed an innovation project. You'll gain insights about what it might take to get even better results next time.
Formally: The tool can help you complete a formal quantitative assessment across your organisation of innovation capability and training needs.
However you use it, we'd be interested to know how you get on. What's more, if you'd like a no-commitment discussion about what the tool has thrown up for you in your organisation. then do get in touch.
Your Personalized Innovation Training Needs Analysis.
We're specialists in innovation training and provide training to clients in a wide variety of sectors, so we have designed this tool to be broad-based.
However, perhaps you feel that the nature of your markets or technologies mean that you're looking for a more personalised diagnosis of your innovation training needs? No problem. Just get in touch and we'll do all we can to help you get a clearer picture of your specific innovation training situation.
© Anatellô Ltd 2016. All rights reserved