Designing for Growth : Book Review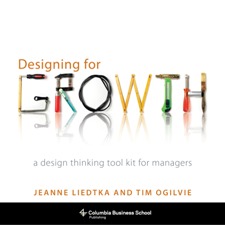 Design thinking has been an innovation buzz phrase for the last few years.
Designing for Growth promises to 'demystify design thinking by translating "design" from an abstract idea into a practical tool any manager can profit from'. The authors also promise that they will use 'business language to unpack the mysterious connection between design thinking and profitable growth'.
If all that sounds a bit too much to get to grips with, then the simple claim that design thinking 'can help managers make better choices under conditions of uncertainty' might be the hook you need.
The authors, Jeanne Liedtka and Tim Ogilvie collaborated on the book at the University of Virginia Darden School of Business. However, they are consultants as well as academics, and this might explain why the book works well as an excellent practitioner guide and is not a dense academic tome.
The book layout also reveals that this comes from people who are involved in design. The format is square; there are transition pieces to lead you between sections and colour blocks to highlight key learning points and case studies. Apart from the few 'white out of colour' blocks of text, it's easy to read.
The style is lively and confident which makes it very readable.
What is Design Thinking?
The authors try to explain what design thinking is by contrasting it with what they call 'business thinking'.
Unfortunately, in order to strengthen their point, they characterize business thinking as something that is done by MBA graduates, involves a lot of PowerPoint and shows very little understanding or consideration of customer needs.
I feel this portrayal of an 'internally focused manager' is more caricature than a realistic assessment. Were any business nowadays, staffed by managers that are so distant from customers, then they would likely be out of business before long.
However, it may be that the authors' points about the philosophy of design thinking will be more effective in helping managers see how this approach contrasts sharply with more widespread and established approaches to innovation.
Particular points that stood out for me included :-
'Ambiguity and uncertainty are like crack cocaine to designers'. And 'design teaches us to let go and allow more chaos into our lives'.
This is heady stuff for managers who are often expected to demonstrate total knowledge of their functional area and competence at all times.
Design for Growth highlights the importance of emotion in innovation. It urges us to strive to ensure there is a ' wow factor' in a proposition, and also that we should communicate it to customers in "a compelling story" . Storytelling we are told, is 'the difference between solving a problem and creating a cause'.
The authors also coach managers to 'set off without needing to know the answer before they start'. Obvious for innovation? Yes, but when you're spending your company's money and you're accountable to the board, the hardest admission is probably "I don't know where this might lead".
But in design thinking that is indeed the objective - to set off and explore the territory. And even if you don't develop a great new product or service proposition you will LEARN. And, the authors suggest, if your organization does not value learning now, then it's time it should. 'Fail fast to succeed sooner' is another mantra of the design thinkers.
Design Thinking Tools.
The book demonstrates how design thinking can be codified as a process and a suite of tools.
Specifically, it can be deconstructed into four questions, ten tools and four learning templates. This creates an excellent map for this innovation process. Sometimes innovation processes can be confusing to follow, and it can be difficult to know where you are at any particular stage. Not here.
This process as a whole is comprehensive, and if used in its entirety is likely for many to feel like a fresh approach.
However, many of the individual tools and practices will not be new to some.
Journey Mapping, Value Chain Analysis and an ethnographic approach to research are all well worn tracks by researchers and innovators. The design thinking 'Mind Mapping' tool will also be recognizable to anyone who has used an inductive approach to insight gathering.
Effective Demonstration of the Design Thinking Tools.
The four phases, the ten tools and the four project management aids are all clearly explained. There are case studies to demonstrate their use and also practice tasks to help you get familiar with them.
This means that the book serves as a real 'how to' manual for a manager who wants to run a whole innovation project using design thinking.
Similarly, for others who like a more hybrid approach to innovation process, they could select their favourite tools from this book to incorporate into their own preferred methodology. This could enrich and refresh a well-used process. Even if design thinking purists might consider this to be heresy!
As in all innovation processes one point for potential disagreement is the point at which ideas are screened out of the process on grounds of feasibility, or on fit with organizational strategy. In design thinking a tool called Assumption Testing is used for this purpose as soon as the concept is defined or earlier. It seems that this is before there has been any consumer feedback on the insight and concept. I would be cautious about doing this assumption testing so early – but there is of course no ideal time for doing it.
Designing for Growth gives a very clear, comprehensive and usable introduction to design thinking.
Read it to learn about the process, tools, and techniques or read it to stimulate your thinking about where on the business thinking to design thinking continuum your company sits and whether you might want to move to a new position?.
Designing for Growth by Jeanne Liedtka and Tim Ogilvie is published by Columbia Business School Publishing 227p.
AnatellÔ score as a tool for innovation and growth 4/5
© AnatellÔ Ltd 2012 . All rights reserved.