Anatellô
Download Your Free Business and Customer Insights White Paper.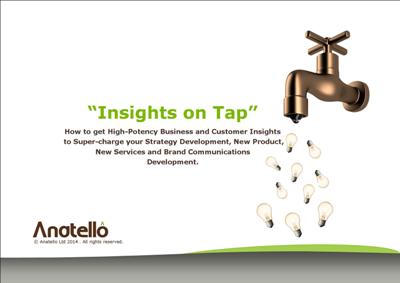 Ever felt confused about what 'insight' really means and why it's vital for innovation and transformation?
If so, this paper is for you.
Insight is a term that is frequently cast about in organisations – but our research shows it can mean different things to different people.
When we at Anatellô talk about insight, we mean real insight. That's the kind of insight that has the power to transform your business and innovation performance.
Contents
Understand why conventional analytics and even 'big data' can't help you to excel at the front-end of innovation.

Understand how business and customer insights can transform your business for growth and sustainable competitive advantage.

Hear what's required in order for you and your teams to get high-potency business and customer insights.

Learn some of the many other ways that business and customer insights can have a mighty impact on your business
Sign up for your free 'Insights on Tap' white paper now!