TRIZ Evolutionary Trends : What Katy's Dress Tells Us.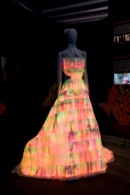 Actress Katy Perry's dress lit up the Costume Institute Gala Benefit in New York the other night. Her stylish gown showed off her great figure - but there was more. When the lights went down the gown 'lit up' !
Was Katy's dress just a gimmick – or is this the look of clothes to come?
Our bet is on the latter – and that's because Katy's dress is 'bang on trend.' We don't just mean fashion trend though. Katy's dress is consistent with TRIZ Evolutionary Trends – part of a toolset that can help innovators with successful product and service innovation.
Katy's dress was illuminated by hundreds of tiny LED bulbs inside the fabric. The switch to control them was concealed inside her bra!
We feel that Katy's dress is the start of something new. Indeed, we have a hunch that in five years time, many of us will be able to wear clothes containing LED bulbs on our nights' out.
So what are TRIZ Evolutionary Trends?
Well, firstly it's worth remembering that one of the key challenges of product development is identifying a starting point.
The two main approaches to identifying a starting point for innovation/product development are:-
Both of these routes are generally pursued through research.
However, the TRIZ Evolutionary Trends can also help the innovator find innovation starting points.
So What Is TRIZ?
TRIZ has been described as a philosophy, a process and a series of tools. It is a body of knowledge that was developed when Russian scientists and engineers examined over ten million patents in the middle of the 20th Century. Some estimates say over 1500 person years of research have been spent in developing the methodologies of TRIZ.
Many approaches to creativity and innovation seek to 'unblock' the creative capability within us. By contrast, the TRIZ approach is based on the idea that someone else must have had an innovation challenge like our own. Therefore, why not find out what solutions they came up with and then explore whether that learning can be applied in some way to our problem.
The Evolutionary Trends are just one part of the vast TRIZ body of knowledge. However, some people find it the most accessible part. It can be a good way to investigate whether you feel TRIZ could be a useful resource for innovation in your business.
In brief, the Evolutionary Trends are 32 trends which show how products in diverse categories develop in consistent ways over time.
Because each trend is split into separate stages it is very easy to map your own product or a competitor's product against the trends and identify how 'evolved' your product is. This will also give you a feel for the 'evolutionary potential' of your product, i.e. how much further scope there is to improve your product or indeed, your service. The 'Evolutionary Trends' can also help with service development.
The Evolutionary Trends tool can be helpful in identifying how to allocate your R&D budget.
So let's take a look at an example, one of the Evolutionary Trends is 'Space Segmentation'. By studying all those patents the Russian engineers identified that in many cases a solid structure will develop into a hollow structure over time and then develop into a structure with 'multiple hollows' and ultimately a porous structure with 'active ingredients.'
The reason this happens is that by doing so it provides extra benefits for customers.
Examples of this trend of 'Space Segmentation' can be seen in products as diverse as chocolate through to sports shoes.
Sports shoes started off with solid soles, then the sole was 'segmented' to create air pockets to help cushioning. Further product development has seen the hollows filled with gels to further help with cushioning and lessen the chance of injury..
So Where Does Katy's Dress Fit Into All This?
Well, my quick assessment identified that Katy's dress shows evolution along seven of the Evolutionary Trends and possibly more - depending on how the lighting is controlled. This can indicate that development of clothing in this direction has a robust rationale – as long as it does also offer the customer real benefits..
Some of the key Evolutionary Trends that are relevant to Katy's dress are Surface Segmentation, where the trend is for the surface of an item to become segmented with protrusions - in this case they hold the LED bulbs. Also 'Increasing Use of Colour' which the lights provide and also 'Controllability'. Instead of Katy being at the mercy of the lighting system in the ballroom – she has her own lighting system that she carries with her.
The extra benefits for Katy are huge. Every movie star on the red carpet wants to stand out and make the biggest impact. Stars also want to be able to make an impact inside the venue – where the lighting is probably much more subtle than outside in front of the paparazzi.
Katy's in-built lighting system resolves that conflict – and moves clothing on to a new technology 'S-Curve.'
The dress was made by Cute Circuit – a company that previously made a one-off illuminated dress the Galaxy (see picture) - that is exhibited in the Museum of Science and Industry in Chicago. With 24,000 LED bulbs that dress was not very 'wearable.' By contrast the development of Katy's dress is a big step forward and one that brings the possibility of this technology closer to us all.
Image credit for 'Galaxy' Dress - Museum of Science and Industry Chicago