Winning at Innovation : Book Review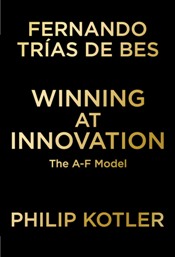 Winning at Innovation. Now that's appealing! So how well do Kotler and Trias de Bes help us do this?
The authors are academics who also consult. The good news is that their writing style for this book is that of practioners rather than academics. It's not dull or overly theoretical as some academics texts can be. Indeed, it's very readable.
The A to F Model.
Kotler and de Bes present an 'integrative model' called ' the A to F model'. The writers have extensive experience of innovation in large organisations and the challenges that managers face. This gives me confidence that the model is appropriate for use in such environments.
What the authors are proposing is that when innovating, instead of focusing on process - which in many companies means the stage gate process or a variant of it - managers would be better to think of innovation in terms of roles.
The authors suggest that innovation is not a linear process. However, a process such as stage gate can lead managers to perceive it that way. What's more, if, as in stage gate, managers get involved at one stage and then let go of the project as it moves into a new stage, then they may also at the same time let go of their responsibility for the outcome.
By contrast, if team members have roles, then they will be more likely to stay engaged throughout, as this 'non linear' process backtracks and detours (as is normal with an innovation project).
The book is well structured. It starts off by outlining seven major barriers to innovation in organizations. This helps establish rapport with the reader early on, as I imagine at least one barrier will resonate with everyone. They then propose the A-F model as the solution.
Innovation Roles not Innovation Processes.
Each of the letters from A to F stands for a different role within the model – starting with A for Activators, all the way through to F for facilitators. There is a detailed chapter on each of these role descriptions; how the role fits into the innovation process and how each role interacts with the other roles.
The specification for each of these roles will seem familiar to experienced innovators. Activators define the scope of the innovation project among other things. Browsers review market research, customer insight and trend data, and Developers build prototypes and undertake concept tests. However, Kotler and de Bes have brought their fresh eyes to each role and tweaked the emphasis to ensure that each is working harder to deliver innovation success. Hence, we hear that Browsers should be presenting 'inspirational' data to the rest of the team – not just a dull bundle of market research slides. The Executors who are in charge of rollout of the innovation are coached to 'surprise' consumers and appeal to their emotions. This won't be new to FMCG marketers but it may be to some B2B innovation teams - even though it is equally important for them.
Later on, some of the broader topics that are also key to 'winning in innovation' are covered including planning for innovation, developing an innovation culture, innovation metrics, and innovation incentives .
There is a lot to like about 'Winning at Innovation'. Firstly, it is thorough. Even if you read no other books about innovation, there's a breadth and depth of information in this one.
While the authors outline a model – it is not a rigid one. In fact, they suggest they are providing a toolkit for managers to design their own process; one that can respond to: the amount and kind of data they have available, how radical they want their innovation to be, and the people and financial budgets available.
I like the way they introduce case study material. There's no long case at the end of the chapter which sometimes means that by the time you read it, the immediacy of the points it supports has been lost. Here, Kotler and Trias de Bes, often just insert a succinct paragraph directly beneath the point which it underpins.
The book also has plenty of clear schematics that act as a quick reference guide to the role specifications, and to explain from which functional area in the organization or from which type of partnerships outside the organizations the people for a particular role might be drawn.
Innovation Planning - It's Important.
With Kotler's established authority in the field of marketing planning it is not surprising that "Winning in Innovation " includes useful advice on innovation planning and persuasive arguments as to its importance.
The authors exhort innovators to plan their innovation carefully. They lay out a range of levels from which to choose to scope the innovation project , from Level One – the most strategic – business model innovation, to Level Four the most tactical – product innovation and service innovation. They also suggest Innovation Guidelines to help further with scoping the project.
One of the most interesting questions the authors raise is "How can we plan and not limit the search for opportunities?" I think this is a fundamental question for any innovation project. On the one hand you do not want to spend time generating and developing ideas that do not fit with current strategy, or those that are so far beyond the core competences of the organization that they would be hard to execute.
On the other hand as we know, innovation often happens at the edge of markets or market sectors and sometimes a powerful new innovation opportunity can lead to refining the corporate strategy in order to exploit it. On reflection, I suggest that the authors would typically define the innovation framework more tightly that I would, but what's important here is that innovation teams are encouraged to think carefully about this issue before they start their innovation project.
I have a few concerns about the book. I concur that the idea of innovation roles does, as the authors suggest, enable a paradigm shift in the way people think about innovation. However, I wonder how well the role names will work in a large organization over the duration of an innovation project, when people already have established job titles. There could be confusion - remembering that the commercial manager is an 'Activator' on this project, and that the marketing manager is an Executor on the project. And there could be confusion with the Facilitator's role, which in this model, is a broader role than what is often referred to as that of an innovation facilitator. However, even if a few individuals can see their contribution in terms of a 'role' in the project, it could start to improve innovation outcomes in the organization.
Winning at Innovation is that special kind of book that could both build the confidence of a novice innovator or stimulate fresh thinking in an experienced innovator. It's excellent.
AnatellÔ Score as a tool to help with innovation and growth 4.5/5
Winning at Innovation by Fernando Trias de Bes and Philip Kotler is published by Palgrave Macmillan 2011 256 p
© 2012 AnatellÔ Ltd. All rights reserved.