Creative Strategy : New Book Review.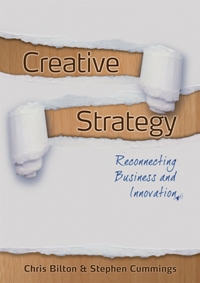 Have you ever wondered whether the 'management science' approach to business; data driven, with deductive analysis and rational argument, is the only way? Perhaps you've wondered about creativity and what you need to do to ensure that it exerts a greater influence on your whole business? If so, Creative Strategy might be the book for you.
Creative Strategy explores what creativity is and what strategy is. It compares and contrasts them, and then takes a long hard look at how organisations can be driven at a strategic level by creativity. This presents a formidable challenge for authors Chris Bilton and Stephen Cummings, but it's one of which they acquit themselves well.
Creative Strategy has much to say to senior managers and business leaders of organisations where there is a desire to progress beyond a state of only drawing on creativity and creative behaviours when it's time to think of new product ideas, or to solve specific operational problems.
Creative Strategy is about how to channel creativity into a broader range of business practices. Quite simply it responds to the question: what might be the process for creative strategy formulation?
Creative Strategy is one of the best texts I have come across to firstly analyse this territory and to then go on to identify strategies and models to enable business leaders to make this happen.
This 'territory' is not just made up of creativity and strategy, it also encompasses entrepreneurship, leadership and organisation. All these areas are interdependent, and it is by sensitively tuning the mix of these elements that a creative strategy can be delivered.
The text examines all these areas in detail. The source material includes a wide range of academic papers and management texts from the last twenty years. In addition, the authors interviewed people across a range of businesses and arts organisations.
Creative Strategy reviews many of the established models that strategy teams will be aware of including Mintzberg's Strategy Process Schools and Porter's Value Chain. It highlights how these approaches often do not foster creativity in the strategy development process, before going on to suggest ways in which such models might be improved to help users to develop a more creative strategy.
Overview of Thesis
If businesses are to strengthen their creativity then overall they need to become more 'flexible'. Team members need to switch between the 'diligent' and the 'dilettante' behaviours of entrepreneurs. As for leaders, they need to flex between drawing on their own ideas and promoting the ideas of others. They also need to focus internally within the organisation and then flex to understand what's going on beyond the organisation. Top down hierarchies aren't going to help a creative organisation, and the case is made for leaders to 'manage from the middle.'
The text also considers in some detail the concept of organisations having simultaneously loose and tight controls (SLT). We are presented with evidence of how successful creative organisations manage organisational control carefully. There are times or perhaps parts of the organisation where thinking has to be 'loose' - to open up to creative ideas. At other times, or in other parts of the organisation control needs to be tighter.
One way to describe the organisation that is creative at a strategic level is 'alert', flexing between different approaches and responsive to its environment.
Creative Strategy shows us that creativity can be brought into an organisation not just through creative thinking but also in how it presents information. The short section on strategy mapping shows some excellent examples of how major companies have synthesised their whole business strategy into unique, simple diagrams or maps. These strategy maps, have proved to be useful tools for communicating the strategy effectively across the organisation – much more so than a weighty PowerPoint presentation.
Case Studies of Creative People and Organisations
Creative strategy offers a wide range of case studies to support each step as it develops its thesis. The usual suspects Apple and Dyson are included. But there are also many others including leadership case studies from sports teams and some fascinating insights into how Nintendo developed the market and technical knowledge that led it to create the Wii.
It's refreshing to see that the major case study in a book about how creativity can infuse not just 'product' but also strategy and leadership – is of an arts organisation – the Royal Shakespeare Company (RSC).
Everyone at the RSC values creativity and many see themselves as creative. However, in 2003 the then Artistic Director Michael Boyd instigated a change programme. The company had for some time applied the 'ensemble approach' in order to unite diverse groups of actors over extended rehearsal periods, and who also had to work on several projects at once. Now Boyd wanted to apply the 'ensemble approach ' more broadly - to the running of the company. What he did and the results he achieved may provide some powerful learning to other organisations who seek to develop a more creative strategy.
"Ensemble is presented not as a model but as a set of principles which can orient and animate a strategy, providing a framework for individuals to achieve extraordinary things – in Boyd's phrase ' to turn playfulness into virtuosity', and to connect individual creativity to collective purpose."
Separately, an interview with writer Nick Hornby provides insight into his working style and demonstrates how he is both 'dilettante' - allowing his mind to wander and make new connections both in his writing and also in the range of creative projects in which he involves himself, and also 'diligent' putting in the time, and working enthusiastically at his craft.
Packaged Information.
Perhaps because creativity and strategy are broad concepts, sometimes perceived as hard to pin down, the authors have made a concerted effort to package the information into manageable chunks.
We are told about:-
The six outcomes of strategic innovation
The five angles of strategic entrepreneurship
The seven virtues of strategic organisations.
In addition to this we are introduced to the authors' own model the 'strategic leadership keypad'.
Editors and publishers may feel that this approach creates value for readers and make the material appear 'actionable'. However, for me the extent of the numbered lists, reminded me of revision notes for business school exams.
As the pace of technological change increases and globalisation exerts ever stronger competitive pressure on businesses, businesses need new resources.One of them is described in this book quite magnificiently by Richard Huntington of Saatchi and Saatchi as 'the unreasonable power of creativity'.
Many leaders see the potential that creativity presents to their organisations, some of them flirt with it, or endorse it publicly, and from time to time encourage their teams to use it. But to really unleash the potential of creativity more broadly across an organisation, and also to become more aware of the potential pitfalls of unbridled creativity, the guidance that Creative Strategy presents could prove valuable.
Creative Strategy by Chris Bilton and Stephen Cummings 275 pages is published by Wiley 2010
Anatellô score as a tool to assist with innovation and growth 4/5
© Anatellô Ltd 2010. All rights reserved.